The Benefits of Using Oracle PeopleSoft on the Cloud—An Optimized Solution for Organizations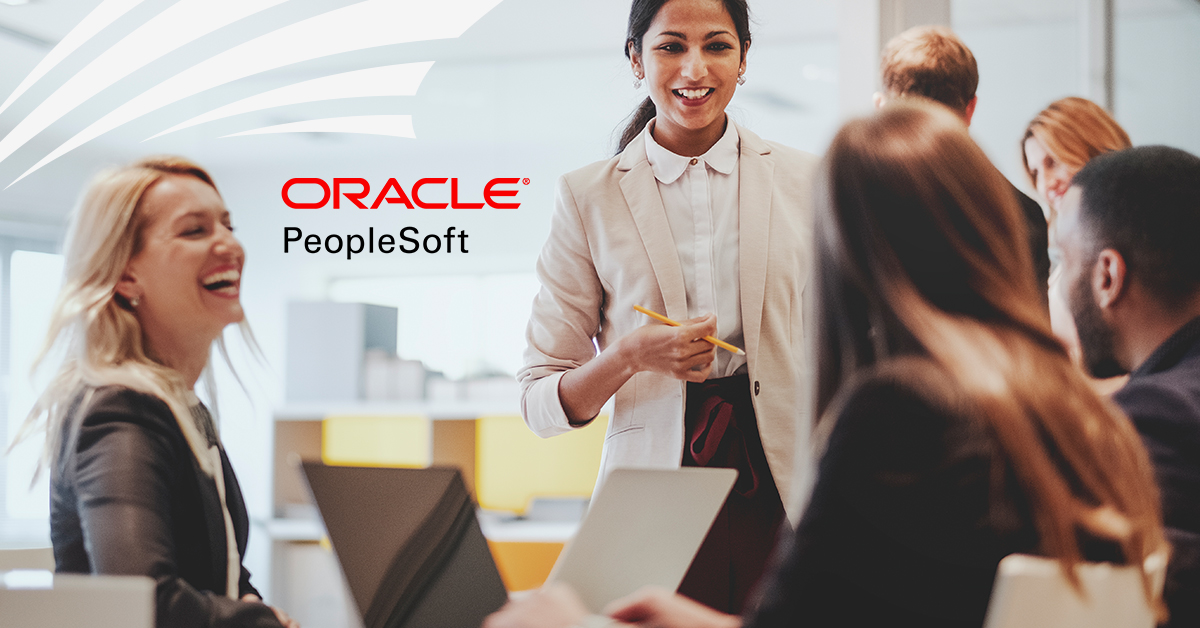 Technology has forever changed the way organizations do business. The latest robust tools and innovations have not only enhanced the applications that organizations have been using to support mission-critical functions—they've transformed the way their information technology is justified, developed, and maintained now that we have the cloud. In simpler terms: this changes everything. Business transformation is empowered by new technology.
However, not all technology is created equal. If you are already using Oracle PeopleSoft, you know it is an invaluable solution that significantly optimizes business functions and is backed by 10+ years of committed support and development from Oracle.
In this digital age, however, we can do even better! If you're not ready or able to migrate to Oracle SaaS applications, moving your current PeopleSoft instance to the cloud can help you gain several important advantages over hosting it on your own local servers.
Why Should Your Organization Move to the Cloud?
In the late 1800s and early 1900s, electricity was available only within a few densely populated areas, leaving many without access to a publicly maintained infrastructure. Businesses, factories, and even doctors outside those areas had to provide their own electricity, using enormous generators and additional staff to ensure the system was well-maintained. But as power providers expanded and electricity became more available, more businesses abandoned their internal power supply to save money and become more efficient.
It's not hard to see a parallel between those times and the current state of cloud computing. Nearly every major industry is feeling a significant economic impact from COVID-19. Budgets are being cut, and states and municipalities are feeling the pressure. Industries across the board are being hit with new challenges, making it more necessary than ever to both save money and increase efficiency. That's why many organizations are deciding to forgo maintaining their own on-premise systems and move to the cloud.
Moving to the Cloud – Which Path Is Right for You?
Not all "cloud" platforms are created equal, however. Virtually every organization has been contacted by a SaaS (software as a service) provider and felt some degree of pressure to at least look into SaaS computing options. But your organization may not be ready to migrate to a SaaS solution for perhaps some very good reasons. If this is your situation, there are several benefits to moving to an IaaS (infrastructure as a service) provider while still maintaining a cloud-first approach.
Organizational Change and Customizations
An IaaS solution causes minimal disruption to end users because it allows you to maintain the processes you have in place without the expense of on-premise infrastructure. Additionally, with an IaaS approach, your customizations and third-party applications can go with you with minimal effort.
Time and Budget
Migrating PeopleSoft to the cloud can be completed in 40–60 business days. With SaaS, you're looking at a much more complex project that will probably last the better part of a year and will require more funding. Additional internal resources are required for a SaaS implementation as well—more team members need to be involved, affecting their ability to work on other projects or your core operations, which may have already been impacted by COVID-19.
Ultimately, if you've found success with Oracle PeopleSoft and you're unable to move to SaaS, you have a way to streamline costs now and help prepare for a future SaaS move. With an IaaS solution, many of the day to day tasks your IT staff performs can be handled with remote services options, allowing them to focus on more strategic initiatives.
Moving your PeopleSoft environment to IaaS is a low risk option. Oracle has no plans to end investment or support for PeopleSoft, and Premier Support is committed "through at least 2031," according to their latest announcements.
Plus, with quarterly updates through PeopleSoft Update Manager (PUM), features like PeopleSoft Fluid UI, mobile access, Oracle Digital Assistant, and HelpDesk, PeopleSoft is becoming an increasingly modern application. Oracle continues to invest in features and functionality that make the program more cutting edge and intuitive.
Oracle PeopleSoft Works Best on Oracle Cloud Infrastructure
It's no surprise that OCI is the best fit for supporting your PeopleSoft environment. It provides greater flexibility, reliability, and performance with PeopleSoft than any other cloud provider.
Adapt on Demand
OCI can scale up or down almost instantly, allowing you to test new tools before making a permanent investment. Let's say your organization is considering a third-party tool that could potentially connect to your Human Capital Management solutions environment to evaluate data, and it needs infrastructure associated with it. OCI gives you the power to create a temporary environment that integrates seamlessly with PeopleSoft without spending more time and expenses on procuring and purchasing additional hardware.
In addition, your developers can test PUM updates without causing issues within other environments or disrupting other IT projects. With the tools provided by Oracle PeopleSoft and OCI, you can spin up a full environment stack, apply your PUM image, and then test on that environment without procuring additional resources.
Amazon Web Services (AWS) and other cloud service providers offer legacy cloud database infrastructures that are manually configured, costly, and require maintenance from many IT resources. Oracle Cloud Infrastructure offers pre-packaged application deployment, and its features enable migration and running Oracle's databases and PeopleSoft with unmatched scalability and reliability.
Top-Notch Security and Speed
Oracle is extremely invested in its cloud atmosphere, and it wants to protect that investment. Your organization reaps the rewards, providing you with stronger data security for your PeopleSoft environment than any other cloud platform.
Oracle databases also run up to 7.8x faster on OCI than other cloud providers. Only Oracle Cloud Infrastructure delivers high-performance network and storage resources and offers access to proven technologies such as Real Application Clusters (RAC), Autonomous Database, and Exadata.
Budget More Effectively
When PeopleSoft is run on the cloud, your maintenance costs are consistent and predictable. Updates and patches are rolled out regularly, and there aren't any surprise expenditures to update or replace a failing server. You can increase your data capacity without creating upfront hardware and facility costs.
While any IaaS can be less expensive than on-premise hosting, Oracle Cloud Infrastructure offers an average 52 percent decrease in the estimated total cost of ownership (TCO) for PeopleSoft over hosting through another cloud system. These cost savings will vary across organizations but are generally found in the following areas.
Hardware and Data Center
Most organizations will see a 30–70 percent savings from this category alone by reducing or even eliminating the majority of this overhead. Think about the cost of your racks, power, insurance, fire suppression, air conditioning, switches, cables, the building itself, and beyond. You'll also eliminate unplanned expenses for repairs or upgrades.
Improved Time to Market
OCI is specifically optimized for Oracle PeopleSoft, reducing the time and resources it takes to implement new tools or processes. Whether that means integrating with remote technologies or changing schedules for your team or industry, you can get products, services, and information to market faster and provide more value to the user.
Resource Optimization
Your team can now focus on transformational projects rather than maintenance, providing more value out of your workforce. With that focus, your organization can potentially lower overtime, reduce consulting costs, and achieve better utilization of the automation that exists to accomplish mundane tasks. You could even have the option to cut back on staff, ultimately saving money there, as well.
Get Started Migrating PeopleSoft to the Oracle Cloud
As you've seen, OCI was designed for Oracle applications and can reduce the cost and length of migration. Combined with ongoing PeopleSoft upgrades through OCI, it only makes sense for your organization to take advantage of the huge benefits of using Oracle PeopleSoft on the cloud. So, choose a partner that can get you on the fast track to success once you're ready to transform your organization like never before.
At Meta, we have rescued a number of high-profile projects over the course of our 20 years of helping clients and garnered a 100-percent success rate. Aside from our extensive knowledge and experience with Oracle, we also offer two complimentary 45-minute guided strategy sessions (virtually, for safe social distancing purposes) and an ROI calculator to get a better sense of the results you can realize for your organization. Reach out to sign up for your FREE sessions and receive helpful resources!